Albert Einstein Online
Albert Einstein Biography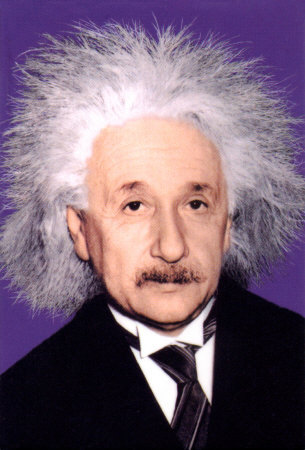 Albert Einstein, 14 March 1879 – 18 April 1955) was a German-born theoretical physicist who discovered the theory of general relativity, effecting a revolution in physics. For this achievement, Einstein is often regarded as the father of modern physics. He received the 1921 Nobel Prize in Physics "for his services to theoretical physics, and especially for his discovery of the law of the photoelectric effect".
Near the beginning of his career, Einstein thought that Newtonian mechanics was no longer enough to reconcile the laws of classical mechanics with the laws of the electromagnetic field. This led to the development of his special theory of relativity. He realized, however, that the principle of relativity could also be extended to gravitational fields, and with his subsequent theory of gravitation in 1916, he published a paper on the general theory of relativity. He continued to deal with problems of statistical mechanics and quantum theory, which led to his explanations of particle theory and the motion of molecules. He also investigated the thermal properties of light which laid the foundation of the photon theory of light. In 1917, Einstein applied the general theory of relativity to model the structure of the universe as a whole.
He escaped from Nazi Germany in 1933, where he had been a professor at the Berlin Academy of Sciences, and settled in the U.S., becoming a citizen in 1940. On the eve of World War II, he helped alert President Franklin D. Roosevelt that Germany might be developing an atomic weapon, and recommended that the U.S. begin nuclear research. That research, begun by a newly-established Manhattan Project, resulted in the U.S. becoming the first and only country to possess nuclear weapons during the war. He taught physics at the Institute for Advanced Study at Princeton, New Jersey, until his death in 1955.
Einstein published more than 300 scientific papers along with over 150 non-scientific works, and received honorary doctorate degrees in science, medicine and philosophy from many European and American universities; he also wrote about various philosophical and political subjects such as socialism, international relations and the existence of God. His great intelligence and originality has made the word "Einstein" synonymous with genius.
Albert Einstein Quotes
"Any intelligent fool can make things bigger, more complex, and more violent. It takes a touch of genius -- and a lot of courage -- to move in the opposite direction."
"Imagination is more important than knowledge."
"Gravitation is not responsible for people falling in love."
"I want to know God's thoughts; the rest are details."
"The hardest thing in the world to understand is the income tax."
"Reality is merely an illusion, albeit a very persistent one."
"The only real valuable thing is intuition."
"A person starts to live when he can live outside himself."
"I am convinced that He (God) does not play dice."
"God is subtle but he is not malicious."
"Weakness of attitude becomes weakness of character."
"I never think of the future. It comes soon enough."
"The eternal mystery of the world is its comprehensibility."
"Sometimes one pays most for the things one gets for nothing."
"Science without religion is lame. Religion without science is blind."
"Anyone who has never made a mistake has never tried anything new."
"Great spirits have often encountered violent opposition from weak minds."
"Everything should be made as simple as possible, but not simpler."
"Common sense is the collection of prejudices acquired by age eighteen."
"Science is a wonderful thing if one does not have to earn one's living at it."
"The secret to creativity is knowing how to hide your sources."
"The only thing that interferes with my learning is my education."
"God does not care about our mathematical difficulties. He integrates empirically."
"The whole of science is nothing more than a refinement of everyday thinking."
"Technological progress is like an axe in the hands of a pathological criminal."
"Peace cannot be kept by force. It can only be achieved by understanding."
"The most incomprehensible thing about the world is that it is comprehensible."
"We can't solve problems by using the same kind of thinking we used when we created them."
"Education is what remains after one has forgotten everything he learned in school."
"The important thing is not to stop questioning. Curiosity has its own reason for existing."
"Do not worry about your difficulties in Mathematics. I can assure you mine are still greater."
"Equations are more important to me, because politics is for the present, but an equation is something for eternity."
"If A is a success in life, then A equals x plus y plus z. Work is x; y is play; and z is keeping your mouth shut."
"Two things are infinite: the universe and human stupidity; and I'm not sure about the the universe."
"As far as the laws of mathematics refer to reality, they are not certain, as far as they are certain, they do not refer to reality."
"Whoever undertakes to set himself up as a judge of Truth and Knowledge is shipwrecked by the laughter of the gods."
"I know not with what weapons World War III will be fought, but World War IV will be fought with sticks and stones."
"In order to form an immaculate member of a flock of sheep one must, above all, be a sheep."
"The fear of death is the most unjustified of all fears, for there's no risk of accident for someone who's dead."
"Too many of us look upon Americans as dollar chasers. This is a cruel libel, even if it is reiterated thoughtlessly by the Americans themselves."
"Heroism on command, senseless violence, and all the loathsome nonsense that goes by the name of patriotism -- how passionately I hate them!"
"No, this trick won't work...How on earth are you ever going to explain in terms of chemistry and physics so important a biological phenomenon as first love?"
"My religion consists of a humble admiration of the illimitable superior spirit who reveals himself in the slight details we are able to perceive with our frail and feeble mind."
"Yes, we have to divide up our time like that, between our politics and our equations. But to me our equations are far more important, for politics are only a matter of present concern. A mathematical equation stands forever."
"The release of atom power has changed everything except our way of thinking...the solution to this problem lies in the heart of mankind. If only I had known, I should have become a watchmaker."
"Great spirits have always found violent opposition from mediocrities. The latter cannot understand it when a man does not thoughtlessly submit to hereditary prejudices but honestly and courageously uses his intelligence."
"The most beautiful thing we can experience is the mysterious. It is the source of all true art and all science. He to whom this emotion is a stranger, who can no longer pause to wonder and stand rapt in awe, is as good as dead: his eyes are closed."
"A man's ethical behavior should be based effectually on sympathy, education, and social ties; no religious basis is necessary. Man would indeeded be in a poor way if he had to be restrained by fear of punishment and hope of reward after death."
"The further the spiritual evolution of mankind advances, the more certain it seems to me that the path to genuine religiosity does not lie through the fear of life, and the fear of death, and blind faith, but through striving after rational knowledge."
"Now he has departed from this strange world a little ahead of me. That means nothing. People like us, who believe in physics, know that the distinction between past, present, and future is only a stubbornly persistent illusion."
"You see, wire telegraph is a kind of a very, very long cat. You pull his tail in New York and his head is meowing in Los Angeles. Do you understand this? And radio operates exactly the same way: you send signals here, they receive them there. The only difference is that there is no cat."
"One had to cram all this stuff into one's mind for the examinations, whether one liked it or not. This coercion had such a deterring effect on me that, after I had passed the final examination, I found the consideration of any scientific problems distasteful to me for an entire year."
"...one of the strongest motives that lead men to art and science is escape from everyday life with its painful crudity and hopeless dreariness, from the fetters of one's own ever-shifting desires. A finely tempered nature longs to escape from the personal life into the world of objective perception and thought."
"He who joyfully marches to music rank and file, has already earned my contempt. He has been given a large brain by mistake, since for him the spinal cord would surely suffice. This disgrace to civilization should be done away with at once. Heroism at command, how violently I hate all this, how despicable and ignoble war is; I would rather be torn to shreds than be a part of so base an action. It is my conviction that killing under the cloak of war is nothing but an act of murder."
"A human being is a part of a whole, called by us _universe_, a part limited in time and space. He experiences himself, his thoughts and feelings as something separated from the rest... a kind of optical delusion of his consciousness. This delusion is a kind of prison for us, restricting us to our personal desires and to affection for a few persons nearest to us. Our task must be to free ourselves from this prison by widening our circle of compassion to embrace all living creatures and the whole of nature in its beauty."
"Not everything that counts can be counted, and not everything that can be counted counts." (Sign hanging in Einstein's office at Princeton)
Albert Einstein Movies
Albert Einstein Biography
Season 1 : Ep. 16 - 45:23
Albert Einstein? He was the twentieth century's greatest thinker. An immigrant who fled Nazi oppression and re-invented himself as a political idealist and humanitarian.
Facts About Albert Einstein
Basic Facts
Birth: March 14, 1879
Birth Place: Ulm, Kingdom of Wurttemberg in Germany
Religion/Ethnicity: Ashkenazi Jewish
Field: Physics
Schooling and College years: Attended the Catholic Elementary School in Munich, in his teens he attended the Luitpold Gymnasium. Graduated from the Polytechnic Academy in Zurich, Switzerland in 1900 with a diploma in physics and mathematics.
Key Achievements: Special relativity, General relativity, Photoelectric effect, Brownian motion, Bose-Einstein Statistics.
Notable Honors: Nobel Prize in Physics awarded in 1921, The Copley medal in 1925 for his contributions to quantum theory and for his theory of relativity, the Max Planck medal in 1929 for his achievements in Physics.
Death: 18 April, 1955 at the age of 76 in Princeton, New Jersey, USA
Interesting Facts About Albert Einstein
When Albert Einstein was a child his mother actually thought he was deformed because he had rather large head. As a child Einstein spoke very little till the age of nine. Albert Einstein had a younger sister named Maja who he became good friends with in the later years of his life.
When Einstein was five years old his father gave him a pocket compass. It was this compass that sparked Einstein's interest in science. The fact that the compass pointed in the same direction no matter how it was turned made him curious about understanding the force behind it.
In 1895 when Albert Einstein appeared for the University Entrance Exam he could only manage to pass in the math and science sections and failed in the rest of the subjects.
Albert Einstein published papers on theory of Special Relativity, Brownian motion and Photoelectric Effect in the year 1905. His paper on general relativity was published in the year 1916.
Albert Einstein could not find work after he graduated from the college and initially had to work as a technical assistant with the Swiss Patent Office. Between the year 1911 and 1912 he taught at a German speaking University in the city of Prague after which he returned to Zurich. In the year 1914 he started working as a professor at the University of Berlin and was also made the director in the Kaiser Wilhelm Institute for Physics.
Albert Einstein won the Nobel Prize for his work in the area of Photoelectric Effect in the year 1921. Einstein was not present to receive his Nobel Prize in December 1922 because he was on a trip to Japan.
In the year 1933 he started teaching at the Princeton University. In the year 1939 he wrote to President Roosevelt and pointed out the possibility of construction of a powerful bomb using atomic chain reactions in Uranium and he also suggested that Germany might be working on such a creation.
Einstein was offered the Presidency of Israel in 1952 but declined it. An element named einsteinium was discovered in 1952 and named in his honor.
Albert Einstein had an illegitimate child with Mileva Maric who was one of his former students. His daughter was named Lieserl and was born in 1902 and not much is known about his daughter. Some accounts indicate that his daughter was mentally challenged and lived with her mother's family. Einstein eventually married Mileva and he had two sons Hans Albert and Eduard. However his relationship with his wife was largely strained. His relationship with his elder son Hans Albert was also quite rocky. Eventually Einstein divorced Mileva and married his cousin Elsa Lowenthal. He had numerous affairs with many women during his lifetime.
Albert Einstein was also not particularly concerned about being well dressed. He also stopped wearing socks because he found his big toe would make a hole in the sock. His favorite past time was sailing. Einstein also loved going for walks around the town and that was one of his favorite activities. He also loved music and used to play the violin.
After Albert Einstein's death in 1955 his brain was removed without approval from his family and an autopsy was conducted. Thomas Harvey conducted this autopsy and eventually it was discovered that Einstein's brain had large portion of glial cells in the region that synthesizes information. Other studies also indicated that Einstein's brain did not have a particular kind of wrinkle and this allowed the neurons to communicate better with each other. At the time of his death, Albert Einstein's final words died with him as they were in German and his nurse did not understand German.

Notable Achievements in the Field of Physics
Here are some Interesting facts about Albert Einstein and his notable contributions in the field of physics and astronomy:
Albert Einstein was a genius in physics and mathematics. He published his first scientific work "The Investigation of the State of Aether in Magnetic Fields" in 1894, when he was just 15 years old.
Einstein totally dismissed the "Old Physics" which believed in an absolute space and time and that the speed of light was relative. He envisaged a universe where the speed of light is absolute and space and time are relative.
Einstein was honored with the Nobel Prize in Physics in the year 1921 for his discovery of the law of the Photoelectric effect and his services for theoretical physics.
In 1905, he published four research papers, the special theory of relativity, the Brownian motion theory, the photon theory of light, and the equivalence of mass and energy. The basis of special theory of relativity is that the velocity of light was absolute, albeit, all other velocities are relative.
Exactly ten years later in 1915, Einstein published a research paper called "general relativity". This theory gives the current meaning of gravitation in modern physics. The research paper explained gravity as a property of space-time. The general theory of relativity unifies Newton's law of gravity and special relativity. The theory produced some of the greatest and strangest results in modern astronomy.
In 1916, Einstein introduced the notion of dark energy. He called it the "energy of nothing". The energy of nothing is Einstein's cosmological constant, which was added to his general theory of relativity. However, he later refuted his own idea by calling it his greatest blunder. "But, his great blunder holds the destiny of universe" says Michio Kaku, author of Parallel Worlds. According to Alexey Vikhlinin, lead researcher in the Smithsonian Astrophysical Observatory in Cambridge, Massachusetts, "dark energy is the cosmological constant, or in simple terms: 'nothing weighs something'. Modern cosmologists estimate that almost 70 percent of universe is dark energy, five percent ordinary matter and 25 percent dark matter. (Sources: Sciencentral.com* and Wired.com*).
In 1905 he published the paper on mass-energy equivalence, which gave twentieth century's most famous equation E=MC2. The equation means that small amounts of mass could be converted into huge amounts of energy. It was the basis of development of nuclear power.
Einstein did not believe in the wave theory of light. He stressed more on the particle theory of light and believed that light is a collection of particles, not waves.
Much of his later life was spent in search for a unified field theory, but he was unsuccessful in providing substantial evidence on it.
He showed us how to calculate the Avogadro's number and the size of molecules.
Albert Einstein Links
Einstein.biz - The Official Site
Albert Einstein Biography, Nobelprize.org
Einstein-Image and Impact. AIP History Center exhibit
Einstein's Big idea, Nova
Albert Einstein (1) - Wikipedia, the free encyclopedia
TIME 100, Albert Einstein
A Science Odyssey: People and Discoveries, Albert Einstein
Einstein, Albert (1879-1955) -- from Eric Weisstein's World of Scientific Biography
Einstein, Albert. The Columbia Encyclopedia, Sixth Edition. 2001-05
Federal Bureau of Investigation, Freedom of Information Privacy Act
Albert Einstein, Brazil
Dr. Albert Einstein Dies in Sleep at 76, World Mourns Loss of Great Scientist
Albert Einstein Distinguished Educator, Fellowship Program